We've heard people ask for an even cheaper entry-level stenography keyboard, so we went ahead and made the Picosteno! We were able to cut costs by avoiding paying for PCB assembly and replacing the aluminum backplate with a PCB backplate. The keyswitches and keycaps are still the best you can buy for hobbyist stenography at a 20g actuation force, though if you want us to stock 15g springs (or have other suggestions), let us know!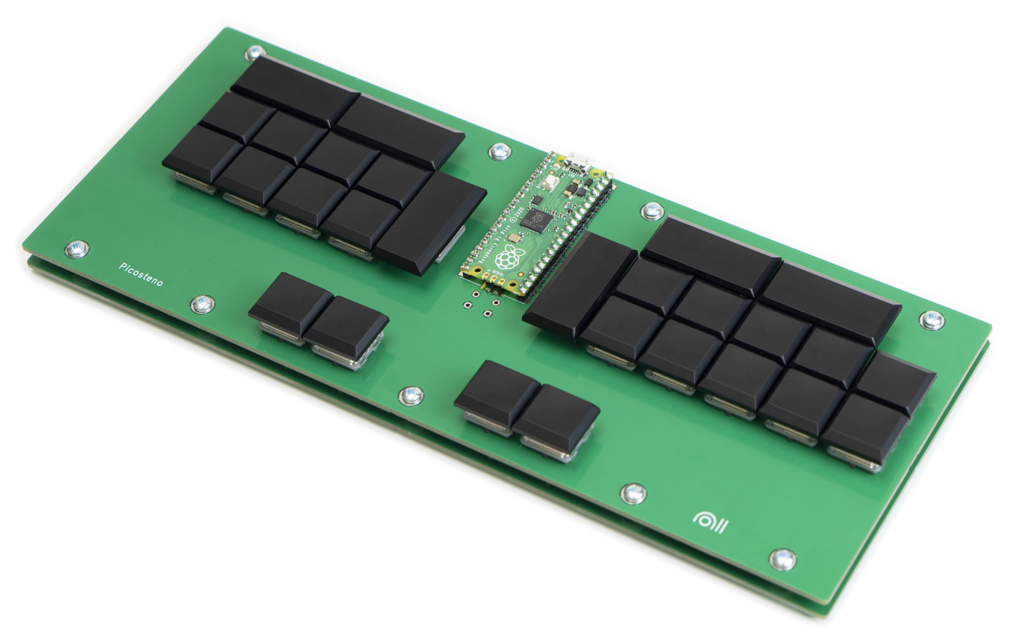 This is a DIY kit, meaning you will have to assemble the keyboard yourself! This includes soldering keyswitches and microcontroller, mounting the backplate, and flashing the firmware. All kits include two PCBs since one is used for the backplate. Take a look at the assembly process here!
Why does it have less keys than the Ecosteno?
We designed this DIY keyboard kit to be as easy to assemble as possible, suitable for someone's first soldering project. Limiting the total key count allows the use of a Raspberry Pi Pico without needing to solder any diodes – removing a common source of error and frustration for beginners. Aside from losing the mode toggle and symbol layer keys, we only lose some disambiguation on the number bar.
If you missed having the mode toggle button to switch between NKRO and Serial modes on the fly, let us know! We might be able to fit a key combination to toggle between the two in the firmware.
Small shipping update?
The weight reduction from not having an aluminum backplate and the size reduction from shipping the Picosteno as an unassembled kit allows us to get barely below some shipping price breaks. In some cases, this can cut the shipping price in half (particularly for international orders). We are extremely close to this weight limit, so we may need to tune it in the coming weeks. A full kit with the cable pushes it right over the limit, so if you want to see how cheap shipping can be, try removing it.