Description
The Picosteno is a DIY stenography keyboard designed for use with Plover, an open-source stenography engine (part of the Open Steno Project), for you to assemble, based on the Raspberry Pi Pico!
We've put together what we'd consider the bare minimum for a hobbyist stenography keyboard to keep prices as low as possible while still giving a good experience! The biggest cost is in the keyswitches, but you can't get a better switch for any cheaper.
If you'd like even lighter springs, let us know and we can add some 15g spring options!
All versions of this kit will include at minimum:
2x Picosteno bare PCBs
9x 7/16″ length 4-40 philips head machine screws
18x standard 4-40 nuts
9x 1/8″ length 4-40 nylon spacers
5x polyurethane bumpers
Instructions here: https://nolltronics.com/assembling-the-picosteno/ You will need to solder!
If you want the keyswitches/keycaps, Raspberry Pi Pico/headers, and/or case, you'll have to select them.
Our keyswitches are 20gf linear switches (Kailh Pro Pink) and the keycaps are black Kailh Choc 1u and 2u.
If you buy the case, it will include a 6ft USB-A to USB-micro B cable (a standard black pvc cable for now). If you want the cable without the case, mention it in your order notes and you'll get one as well (for now).
Plover Serial Port Configuration
Gemini PR protocol (9600 baud rate, 8 data bits, 1 stop bit, and parity N).
We've currently only been able to test on Windows 10 machines, but so far every customer that has tried on Linux and Mac has had it work just fine!
Key Layout
To keep things simple and make use of the limited GPIO on the Raspberry Pi, we have one version of firmware for Steno mode and one version for NKRO mode that you can download and upload to your Raspberry Pi Pico Below:
Firmware is necessary and downloadable here: https://github.com/nkotech/Picosteno-Firmware
Serial Steno Firmware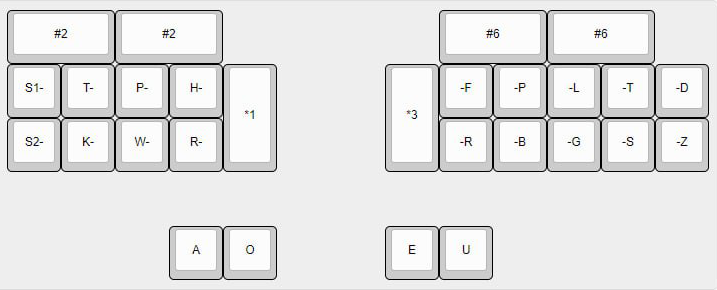 NKRO Firmware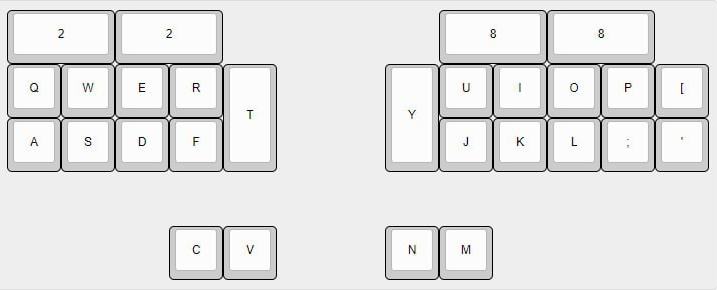 (Note that there is no disambiguation between the number keys on either side, the only disambiguation is between the left number keys and right number keys. This is to prevent requiring you to need to solder diodes)
If you'd like something a bit more advanced, check out our other keyboards!