Nolltronics is developing the EcoSteno – a durable, affordable, entry-level steno keyboard for use with Plover (an open-source stenography engine). The EcoSteno is currently in the final stages of pre-production with the following features: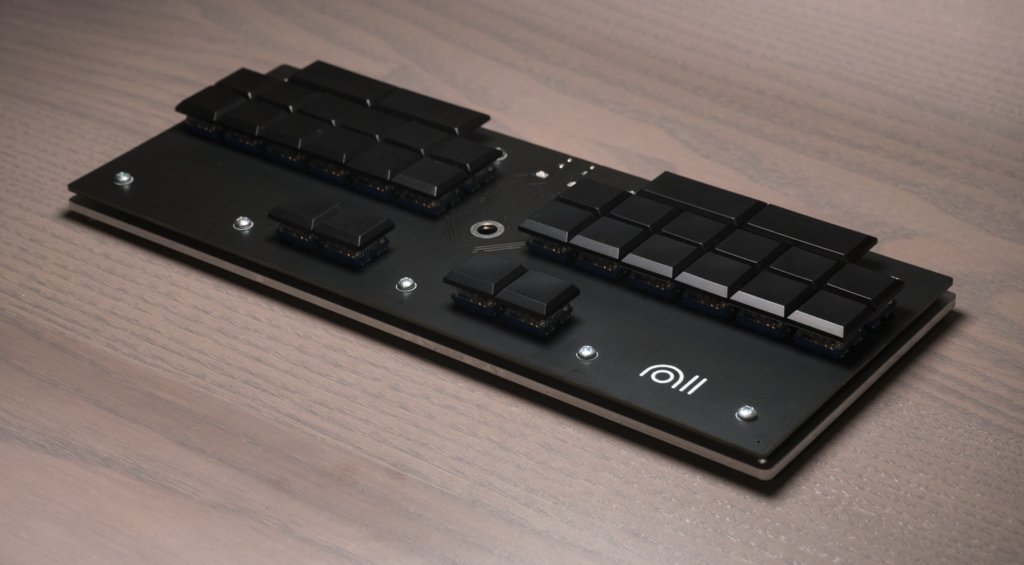 EcoSteno Specs (v1.0.17 as of 4/6/2021)
USB-C port connectivity
Kailh gChoc switches – linear 20gf actuation (can be DIY spring-swapped with the right tools)
32 keys (Split S-, Quad *, 4-segment number bar, two extra meta buttons)
Supports NKRO Steno, Serial Steno (TX-Bolt protocol), and Qwerty mode, indicated by 2 LEDs on top of the board
4×10″ footprint1, <1″ height
1/8″ aluminum backplate with 1/4-20 camera mount2 and rubber bumpers
Powered by QMK running on GD32F103CBT6
Easily accessible reset button for end-user reprogramming over USB
Lead-free construction
$85 price point before shipping and taxes
Notes:
1: The board may be up to 10.125″ long due to how they are manufactured.
2: This allows the keyboard to fit onto most tripods that have a platform smaller than 3″. You may run into issues if you're using a professional video-style tripod that has a much longer platform as there are nuts on the underside of the backplate.
The website is still under construction – feel free to contact us at contact@nolltronics.com if you spot any issues.
You can sign up for email updates in the box below!
Newest Update
Progress Update – April 6, 2021

The final production model has been finalized and the boards for the very first batch of EcoStenos have been ordered!

These boards should arrive in about a week's time, should everything go smoothly. We already have all the other materials to make the first batch, and so can begin assembly the moment we receive these boards. That means that the very first EcoStenos should be available for sale around mid to late April!

I would like to thank the Plover community for making this a possibility, with an extra shout-out to Mirabai Knight for aiding greatly in the process of developing the EcoSteno. Mirabai has contributed immensely to this project by sharing a design survey that provided amazing data on the direction of the project, allowing us to make a keyboard aimed for everyone's use case. They have also provided direct feedback in helping us finalize the design.

The pricing of the EcoSteno will be $85 before shipping and taxes.

What you are paying for with this money includes:

The material cost of the electronics, switches, keycaps, backplate, and hardware
The labor cost of hand-soldering the main chip and 32 switches, assembling keycaps, programming firmware and testing the board
The labor cost of drilling, pressing, and finishing the backplates by hand, then assembling it all together
The startup capital cost of the tools – drill press, belt sander, shop press, etc.
The startup R&D / labor cost of designing and developing the EcoSteno over several revisions

EcoSteno v1.0.17 Feature List

Production Version v1.0.17 PCB

4×10″ footprint, ~22mm height (<1")A
USB-C Port Connectivity with reset button nearby for end-user reprogramming
Kailh gChoc switches @ 20gf linear actuation, default Kailh choc keycaps
32 total buttons with a 4-segmented number bar (also includes Split S1-/S2- and *1/*2/*3/*4)
1/8″ brushed aluminum backplate with 1/4-20 camera mountB and rubber feet
2 LEDs used to indicate Qwerty Mode (left red LED) / Serial Steno Mode (right green LED) / NKRO Steno Mode (off)
Lead-free construction
TX-Bolt serial protocol
Powered by QMK running on GD32F103CBT6

Note A: The backplate may be up to 10.125″ long due to how it's manufactured.
Note B: This allows mounting to most tripod platforms smaller than 3″. You may run into issues if your tripod platform is larger than this due to nuts on the underside.

The default keymapping (as of 4/6/2021) is shown below. You can change this to whatever you want by simply hitting the reset button on the keyboard and reflashing the microcontroller with a customized version of the firmware. The firmware will be provided on the product page once it's ready to order.

By default, the Mode Toggle button changes the layer from Serial Steno -> NKRO Steno -> Qwerty Mode -> Serial Steno.

Serial Steno Layout (default, green/right LED on)

NKRO Steno Layout (no LEDs on)

Qwerty Mode Layout (red/left LED on). Home row and number keys are chords.

Symbol Layer

Changelog from v0.16:

Removed silkscreen around top screw holes
Shrank logo due to silkscreen quality issues
Small micro-optimizations on the PCB layout

Stay tuned for when the first batch of 20 boards becomes available for order by subscribing to our mailing list!

What's in the future? – 4/6/2021

Once the first batch of EcoStenos sells out, we will be in the process of buying materials for a larger second batch. The size and frequency of subsequent batches depends on the amount of interest, demand, and our ability to order parts and assemble them.

Nathan O. & Lenno L.