Nolltronics is now selling the EcoSteno! – a durable, affordable, entry-level steno keyboard for use with Plover (an open-source stenography engine).

Update 7/28/21: We're dealing with a few outside issues that popped up that will be delaying this batch by a week or two, but we should have them ready to list by early August at this point.
Update 7/12/21: The raw materials for the third batch are just now arriving and we should be able to finish putting this batch together by the end of the month.

Update 6/30/2021: We're finishing up cleaning and boxing the current batch and should have shipping numbers within the next day or two!
Update 6/24/2021: The second batch of EcoStenos have been sold out! Materials for the third batch have already been ordered and the next restock should be in mid to late July.
Update 6/23/2021: The EcoSteno will be restocked at noon eastern time on June 24th! We now also offer shipping to Canada and the UK! In case you miss this restock, we should have another batch ready within 2-3 weeks.
Quick update 6/8/2021: We've gotten in most of the materials needed for the second batch and should be announcing the next batch for sale within the next week or two!
Update 4/27/2021: We have vastly underestimated demand and have sold out of our first batch of EcoStenos in an hour! We are now hard at work getting these shipped and ordering materials for a larger second batch.
The EcoSteno is now in production with the following features: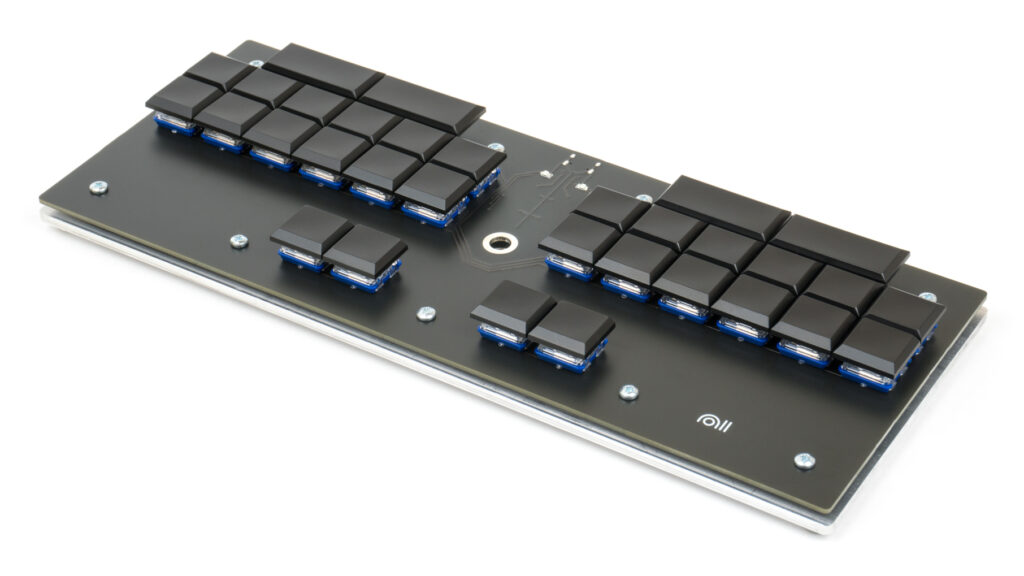 EcoSteno Specs (v1.0.18 as of 6/23/2021)
USB-C port connectivity
Kailh gChoc switches – linear 20gf actuation (can be DIY spring-swapped with the right tools)
32 keys (Split S-, Quad *, 4-segment number bar, two extra meta buttons)
Supports NKRO Steno, Serial Steno (TX-Bolt protocol), and Qwerty mode, indicated by 2 LEDs on top of the board
4×10″ footprint, <1″ height
1/8″ laser-cut aluminum backplate with 1/4-20 camera mount1 and rubber bumpers
Powered by QMK running on GD32F103CBT6
Easily accessible reset button for end-user reprogramming over USB
Lead-free construction
$85 price point before shipping and taxes – subject to increase. We'll try our best to keep it under $100!
Notes:
1: This allows the keyboard to fit onto most tripods that have a platform smaller than 3″. You may run into issues if you're using a professional video-style tripod that has a much longer platform as there are nuts on the underside of the backplate.
The website should be pretty polished, but feel free to contact us at contact@nolltronics.com if you spot any issues.
You can sign up for email updates in the box below!
Newest Update
Second Batch Restock! – June 2021

The second batch of EcoStenos will soon be ready for purchase! The second batch took longer than expected to complete due to running out of some critical parts that had a long shipping time.

New International Shipping Options!

We are now offering shipping to Canada and the UK via USPS Priority Mail International, Priority Mail Express International, and First-Class Package International Service!

Changelog from First Batch (v1.0.17 -> v1.0.18)

Backplates are now laser-cut 5052 aluminium plates (instead of hand-machined 6061 flat bars)
Decreased brightness of red LED to match brightness with green LED (resistor value increased from 5.1k to 10k)
Added boot 0 toggle switch

The backplates are now laser cut, meaning that there should be no more misaligned camera mounts. The new backplates are more corrosion resistant, but I still wouldn't recommend dipping it in water. The new backplates also have a lower yield strength, but unless you're running over them with a car they're just as indestructible.

In v1.0.17, the red LED is about twice as bright as the green LED primarily due to increased efficiency. To match the brightness, the red LED now has about twice the series resistance (and therefore half the current).

Location of the Boot 0 Toggle Switch

The boot 0 toggle switch is a hard to access switch, as it is used only for flashing the bootloader once during the assembly process. It was added to make assembly easier (in v1.0.17, I had to resolder a solder jumper every time).
You should not touch this switch ever, and it should always be in the GND position.

In the exceedingly rare occasion that something manages to bump this switch to the 3V3 position, you may need to use a hairpin, card, or toothpick to set it back to the GND position.

Restock!

The EcoSteno will be restocked at 12:00PM (noon) EDT on June 24, 2021. Don't miss your chance to get one while supplies last!

If you happen to miss this chance, do not fret. Supplies for the third batch have already been ordered, and we estimate that the third batch should be available in mid to late July.