Now selling the Multisteno and Case!
9-20-22: Ecostenos should be making it to us this week with some of the first assembled ones shipping as early as next week, get one on backorder if you want one of the first boards shipped!
9-1-22: Ecostenos are now available for backorder (unannounced) at a small discount if you get the full kit 👀 (use code ECOFIVE). We'll make an official announcement once we're sure the backorder system is working as expected.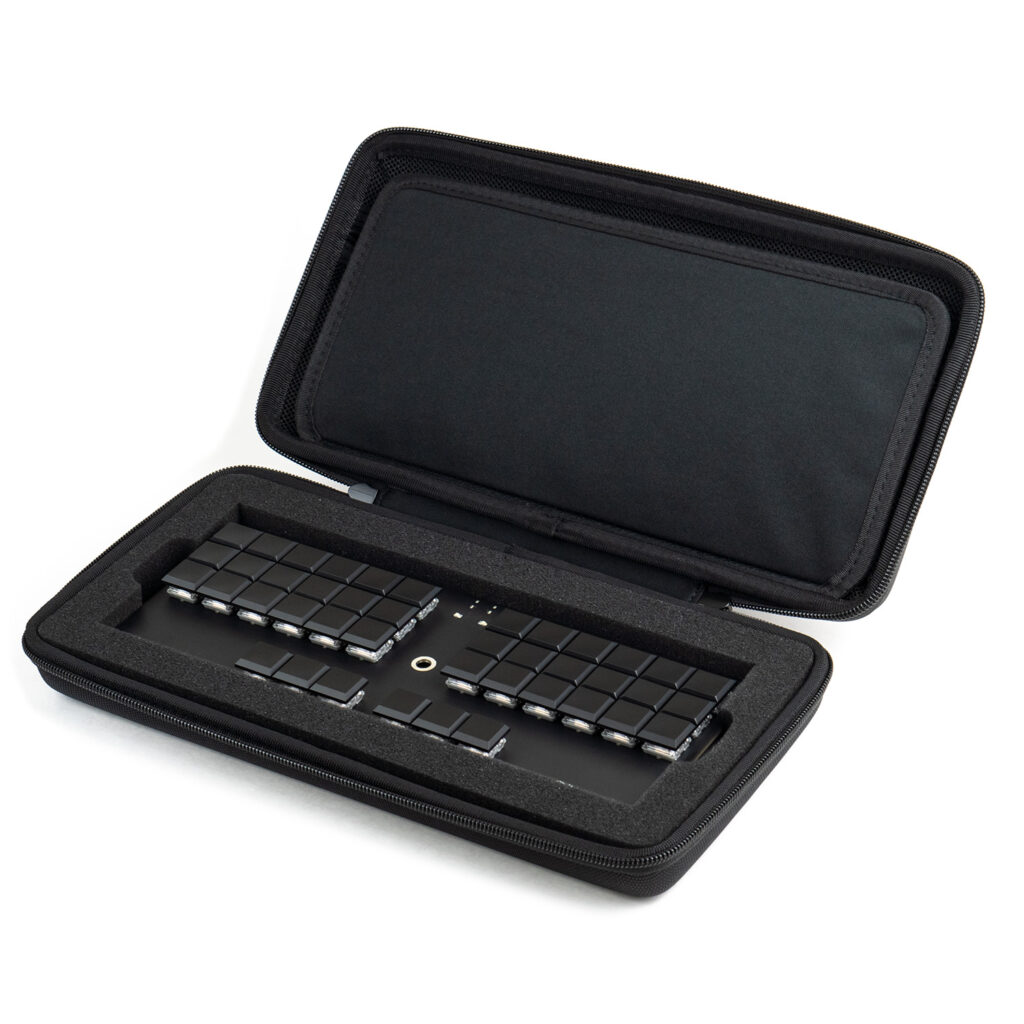 Newest Update
Introducing the Multisteno and Case!

We've been working on this new pair of products for the past few months and after weeks of delays, they're finally here! The Multisteno is our new steno keyboard that adds enough switches to saturate the Gemini PR protocol, allowing it to work with most steno theories (especially some non-English ones that require more keys). Meanwhile, the case is custom-designed to fit both the Ecosteno and Multisteno perfectly (and any other devices that are 4x10x0.9 inches) and protect them from all sides for shipping/travelling while also having a little space for cables and other accessories. We have about 300 units (which is more than we've ever had on hand before) of each that we should be able to get out the door within a few days of each order aside from a few hiccups (I'll unfortunately be out of town for most of the next two weeks, but I'm hoping to get all orders made by Sunday/Monday out by Tuesday/Wednesday). After then, shipments should start start going out again July 25th.

Pricing

We wanted to make the Multisteno a refined and upgraded version of the Ecosteno in every way (without drastically changing the design), and have increased the quality and quality control on just about everything. We've moved our PCB production and assembly to the highest quality line at our manufacturer and secured custom packaging for our keycaps to prevent any scratching throughout shipment. To keep the final Multisteno protected, we ship it in its custom travel case along with all the cables needed to plug it in to any computer with a USB-A or USB-C port.

Keyswitch change

Kailh has recently notified us that their future 20gf linear choc switches will be branded as Pro Pink switches, and as such we are transitioning to this new color scheme. Mechanically they are identical to the stock gChoc switches we've used in earlier versions of our keyboards – the only difference is their color.

Future releases

The next release should be within a few months and will likely have a combination of Ecostenos and Multistenos.
Regarding the shipping of this batch, we're using new box sizes and envelopes for the cases so international shipping rates may jump around a little bit. DHL was initially reliable with their rates, but they've been climbing surprisingly rapidly (although speeds remain consistent). If any of your shipping rates looks off, send us an email and we can double check them.

Nolltronics is now selling the EcoSteno! – a durable, affordable, entry-level steno keyboard for use with Plover (an open-source stenography engine).
The EcoSteno is now in production with the following features: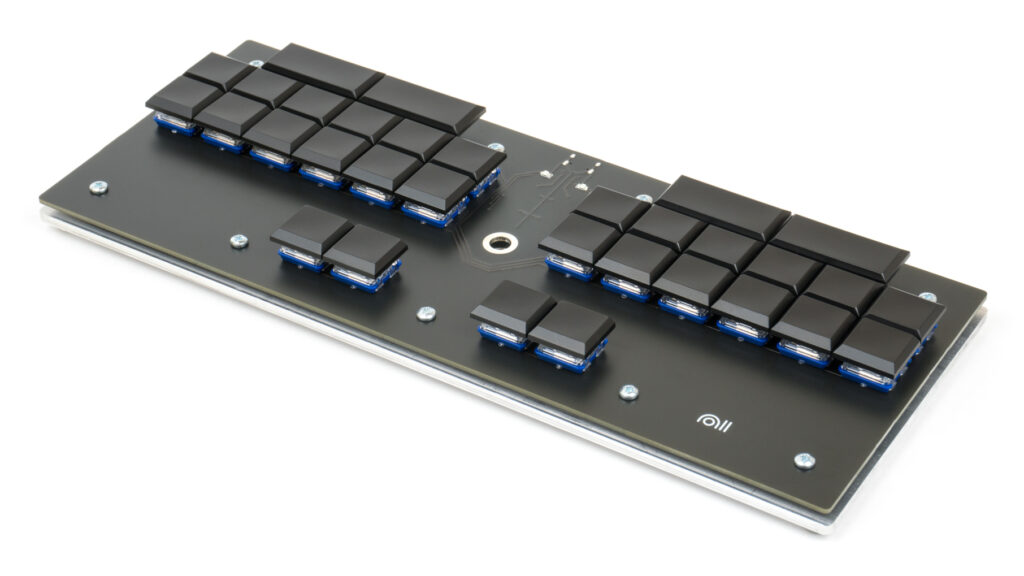 EcoSteno Specs (v1.0.20 as of 8/21/2021)
USB-C port connectivity
Kailh gChoc switches – linear 20gf actuation (can be DIY spring-swapped with the right tools)
32 keys (Split S-, Quad *, 4-segment number bar, two extra meta buttons)
Supports NKRO Steno, Serial Steno (TX-Bolt protocol before July 2021, Gemini PR after), and Qwerty mode, indicated by 2 LEDs on top of the board
4×10″ footprint, <1″ height
1/8″ laser-cut aluminum backplate with 1/4-20 camera mount1 and rubber bumpers
Powered by QMK running on GD32F103CBT6
Easily accessible reset button for end-user reprogramming over USB
Lead-free construction
$95 price point before shipping and taxes
Note 1: This allows the keyboard to fit onto most tripods that have a platform smaller than 3″. You may run into issues if you're using a professional video-style tripod that has a much longer platform as there are nuts on the underside of the backplate.
The website should be decently polished, but feel free to contact us at contact@nolltronics.com if you spot any issues.
You can sign up for email updates in the box below!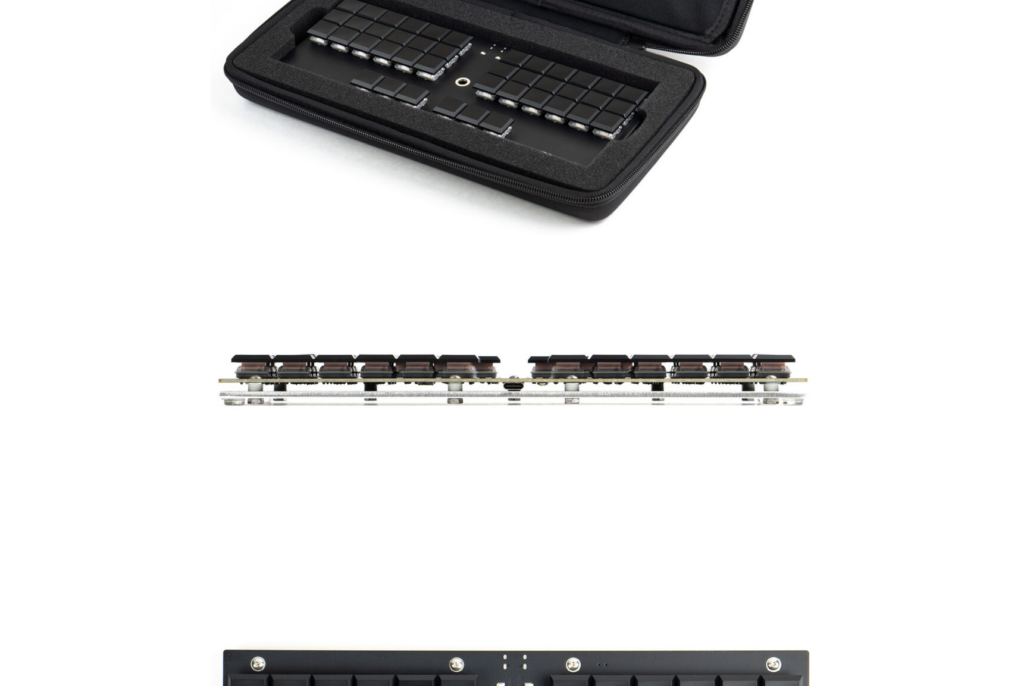 8-22-22: Ecostenos should be back in stock in a few weeks, potentially with preorders opening up beforehand!
7-10-22: We are currently having issues with our emails going out. If you haven't gotten an order confirmation, send us an email and I can forward it to you. Update: As of 9:45PM today, all email services should be back up and running, let us know if anything seems off!
6-27-22: Now we're only waiting on the cases to come in (that should've arrived 2 weeks ago). If we still don't have them in a few days, we may go ahead and open up orders next week.
6-8-22: We've ran into a few delays, but are currently planning on opening up orders for a new steno board and case within the next two weeks!
4-30-22: We've sold out of our first big batch of the year (almost)! There's a few stragglers that we'll be adding into inventory as we finish testing and assembling them (mostly older boards) but the next big release may be another 6 weeks out. However, we have a few dozen new prototypes that should be out a lot sooner (within ~1-2 weeks)!
Update 4-12-22 : We'll be adding a small amount boards into inventory tomorrow around 7pm EST and adding to this as more boards get finished. We'll also likely be opening backorders for the rest of the boards we have on hand if we sell out of these initial boards since more are close behind.
We've sold out most of our big batch, but we still have ~80 boards left that we're going to be adding into inventory as they're completed, and are expecting to have a few dozen up for sale by mid-April (likely without a restock email).
3-29-2022
Update 2/24/2022: There will be a large EcoSteno restock tomorrow, Friday February 25th at 7PM EST! https://nolltronics.com/big-february-restock/
Update 2/24/2022: There will be a large EcoSteno restock tomorrow, Friday February 25th at 7PM EST!
Update 1/18/2022: All boards are now in the hands of the USPS! If you haven't gotten an email with your tracking number and would like to have it, send us an email and we can forward it.
Update 1/7/2022: The first batch of the year has been sold! We'll be packaging and shipping these boards over the next week, but don't worry if you missed out because the next batch shouldn't be more than a month away. We also have almost 200 boards that we're considering opening preorders for so we can get the next big batch paid for and on its way sooner rather than later (but we'll get this first batch out the door first). We're getting ~10 shipped a day, so every board from this batch should be out the door by the end of the week.
Update 1/4/2021: We'll be restocking the EcoSteno tomorrow at 7pm EST, January 5th! In case you miss out, we expect to have the next batch ready either late this month or early next month.
Update 12/9/21: The big order is in and we're working on assembling over 200 EcoStenos! We're aiming to get at least one batch out by the end of the month, and we're also dealing with some new mounting hardware (which will hopefully speed things up even more!)
Update 11/28/21: We're still waiting on a big order of EcoSteno PCBs to be assembled and shipped (from an order placed months ago), but we should be able to receive, assemble, and start listing them before the end of the year.
Update 11/8/21: We should have all of the most recent orders fulfilled by the end of the week, thanks for your patience! We should have another restock within a few weeks.
If you haven't gotten a shipping number, contact us and we'll resend it. It looks like some emails didn't go through.
Update 10/22/21: We've been at work on the current batch, but with work and school ramping up, it's taking more time than usual. The current plan is to list what we have completed before Halloween and allow backorder for the rest of the in-progress batch that we have on hand (if they aren't completed by then).
Update 10/5/21: We received a batch of boards with GD32F103C8T6 chips and are running into issues getting them working with the CBT6 firmware although I'm hoping I can get them figured out this week. The large batch with the usual chips is still in production. We also now have a discord server!

Update 9/10/21: We've started the process of manufacturing in bulk and should have several hundred boards arriving mid-October. In the mean time, we will try to have another small batch ready earlier.
Update 8/19/21: Restock today at noon EST! This restock took longer than usual to show up but the boards are almost completely done (instead of partially done) so we should be able to ship them sooner than we could with the past restocks. Update update: With how fast this batch sold out, we're looking at greatly increasing our capacity in the coming month.

Update 7/28/21: We're dealing with a few outside issues that popped up that will be delaying this batch by a week or two, but we should have them ready to list by early August at this point.
Update 7/12/21: The raw materials for the third batch are just now arriving and we should be able to finish putting this batch together by the end of the month.

Update 6/30/2021: We're finishing up cleaning and boxing the current batch and should have shipping numbers within the next day or two!
Update 6/24/2021: The second batch of EcoStenos have been sold out! Materials for the third batch have already been ordered and the next restock should be in mid to late July.
Update 6/23/2021: The EcoSteno will be restocked at noon eastern time on June 24th! We now also offer shipping to Canada and the UK! In case you miss this restock, we should have another batch ready within 2-3 weeks.
Quick update 6/8/2021: We've gotten in most of the materials needed for the second batch and should be announcing the next batch for sale within the next week or two!
Update 4/27/2021: We have vastly underestimated demand and have sold out of our first batch of EcoStenos in an hour! We are now hard at work getting these shipped and ordering materials for a larger second batch.