Update 10/22/21: We've been at work on the current batch, but with work and school ramping up, it's taking more time than usual. The current plan is to list what we have completed before Halloween and allow backorder for the rest of the in-progress batch that we have on hand (if they aren't completed by then).
Update 10/5/21: We received a batch of boards with GD32F103C8T6 chips and are running into issues getting them working with the CBT6 firmware although I'm hoping I can get them figured out this week. The large batch with the usual chips is still in production. We also now have a discord server!

Update 9/10/21: We've started the process of manufacturing in bulk and should have several hundred boards arriving mid-October. In the mean time, we will try to have another small batch ready earlier.

Nolltronics is now selling the EcoSteno! – a durable, affordable, entry-level steno keyboard for use with Plover (an open-source stenography engine).
The EcoSteno is now in production with the following features: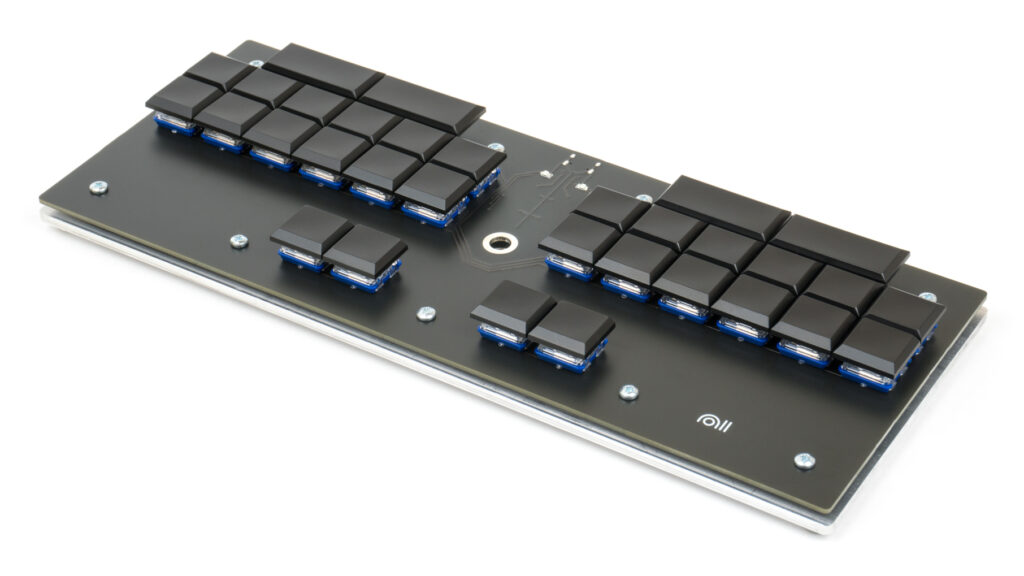 EcoSteno Specs (v1.0.18 as of 6/23/2021)
USB-C port connectivity
Kailh gChoc switches – linear 20gf actuation (can be DIY spring-swapped with the right tools)
32 keys (Split S-, Quad *, 4-segment number bar, two extra meta buttons)
Supports NKRO Steno, Serial Steno (TX-Bolt protocol before July 2021, Gemini PR after), and Qwerty mode, indicated by 2 LEDs on top of the board
4×10″ footprint, <1″ height
1/8″ laser-cut aluminum backplate with 1/4-20 camera mount1 and rubber bumpers
Powered by QMK running on GD32F103CBT6
Easily accessible reset button for end-user reprogramming over USB
Lead-free construction
$85 price point before shipping and taxes – subject to increase. We'll try our best to keep it under $100!
Notes:
1: This allows the keyboard to fit onto most tripods that have a platform smaller than 3″. You may run into issues if you're using a professional video-style tripod that has a much longer platform as there are nuts on the underside of the backplate.
The website should be pretty polished, but feel free to contact us at contact@nolltronics.com if you spot any issues.
You can sign up for email updates in the box below!
Update 8/19/21: Restock today at noon EST! This restock took longer than usual to show up but the boards are almost completely done (instead of partially done) so we should be able to ship them sooner than we could with the past restocks. Update update: With how fast this batch sold out, we're looking at greatly increasing our capacity in the coming month.

Update 7/28/21: We're dealing with a few outside issues that popped up that will be delaying this batch by a week or two, but we should have them ready to list by early August at this point.
Update 7/12/21: The raw materials for the third batch are just now arriving and we should be able to finish putting this batch together by the end of the month.

Update 6/30/2021: We're finishing up cleaning and boxing the current batch and should have shipping numbers within the next day or two!
Update 6/24/2021: The second batch of EcoStenos have been sold out! Materials for the third batch have already been ordered and the next restock should be in mid to late July.
Update 6/23/2021: The EcoSteno will be restocked at noon eastern time on June 24th! We now also offer shipping to Canada and the UK! In case you miss this restock, we should have another batch ready within 2-3 weeks.
Quick update 6/8/2021: We've gotten in most of the materials needed for the second batch and should be announcing the next batch for sale within the next week or two!
Update 4/27/2021: We have vastly underestimated demand and have sold out of our first batch of EcoStenos in an hour! We are now hard at work getting these shipped and ordering materials for a larger second batch.
Newest Update
Third Batch Restock! – August 2021

The third batch of EcoStenos will soon be ready for purchase! We hit some snags with various things that ended up delaying this batch by several weeks, but we were able to smooth things out since then.

New International Shipping Options – Around the world!

We are now offering shipping to anywhere serviced by USPS (aka nearly everywhere on earth with the exception of sanctioned countries). Please note that certain countries currently have service interruptions due to Covid-19 (link to current USPS interruptions). The options are:

USPS Priority Mail International
USPS Priority Mail Express International
First-Class Package International Service

Please note that First-Class is not insured, and we cannot take responsibility for packages lost by USPS.

Changelog from Second Batch (v1.0.18 -> v1.0.19)

Serial mode protocol is now Gemini PR
Qwerty mode home-row capitalization bug should be fixed now
On-board voltage regulator is now tolerant of higher voltages

The serial mode protocol is now Gemini PR. This allows disambiguation of S1- and S2- keys, the four star keys, and the four number keys during serial mode operation. This was not possible in the previous serial protocol (TX-Bolt) due to its intrinsic limitations.

One bug report we found was an inability to type capital home row letters. This was a firmware issue stemming from how they were defined as key combos in QMK – this should now be fixed.

Lastly, the voltage regulator was changed to one more tolerant of high voltages in the edge case that the board receives excessive voltage on VBUS.

Design and Firmware Files Release, DIY Version and Part Kits

We recognize that demand far outstrips supply for the EcoSteno, and this may soon be exacerbated since Lenno will be going back to university to start on his master's degree in a week. In our commitment to the Open Steno community and making the EcoSteno as accessible as we can, we are releasing the design and firmware files under GNU GPL v2; this is the same license used by QMK for most of QMK.

In addition, we are currently developing a DIY version that uses only through-hole components for easier DIY assembly. We are looking into making it compatible with both the RP Pico and the Pro Micro (and therefore by extension, any board compatible with the Pro Micro footprint).

Since the part that takes the most startup cost (and therefore most impacted by economies of scale) to make is the backplate and supporting hardware, we are looking into offering hardware kits for DIY EcoStenos.

Restock!

The EcoSteno will be restocked at 12:00PM (noon) EDT on August 19, 2021. Don't miss your chance to get one while supplies last!